24 HR DISPATCH: ☎ (206) 632-0151
Jethro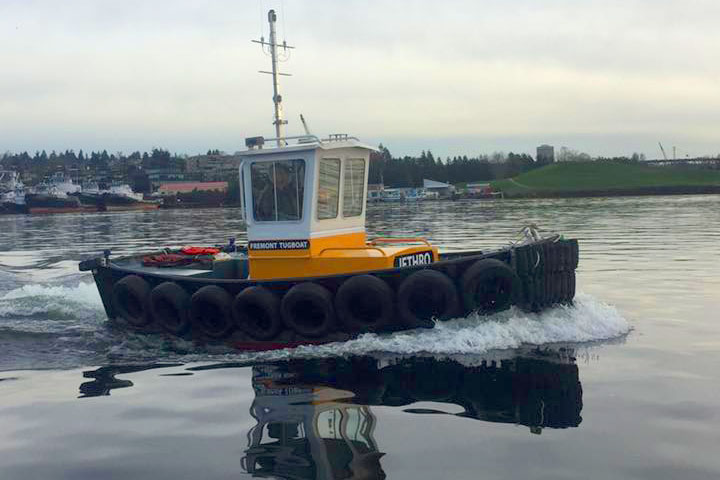 Specifications of Vessel
Vessel Name: Jethro
Type: Seine Skiff/ Tug Conversion
Former Name: Let er' Go
Official Number: WN4121LL
Gross Tonnage:
Net Tonnage: Under 5
Total Weight:
Construction: Aluminum
Port Registry: Seattle, WA
Year Built: 1971
Last Rebuild: 2016
Survey: 2017
Vessel Dimensions
Overall Length: 20'
Overall Beam with Fendering:
Draft: 3'
Air Draft:
Tank Capacity
Fuel: 100 Gallon Diesel. (Single aft Tank)
Propulsion
Main Engine: Detroit Diesel 453
Horsepower: 120
Reduction Gear:
Propeller:
Shaft Size:
Bollard Pull:
AC Power
Shore Connection: 110 V AC 30 Amp Twist Lock
Inverter:
DC Power
Batteries: 12 Volt Starting
Charging: Pro Mariner 6-amp Maintenance Charger
Navigation/Communication
Radio VHF: 2 Each- Standard Horizon GX-1700
Loudhailer:
Whistle: Portable
Radar:
Fathometer:
GPS Plotter:
Compass:
Radio Portable VHF: 1 each Standard Horizon HX-870
Search Light:
Deck Equipment
Lines: All Deck and Towlines are ¾ inch 3 strand Poly Blue Steel Line.
Terminal Gear: Shackles, Hooks
Salvage Equipment
Oil Spill Pads: 1 Bale
Damage Control Supplies:
Safety Equipment
PFD's: 4 Adult Type 1 with lights and Whistles. 2 Work Vests with Lights and Whistles
Life Ring:1 each 24" with throw bag
Portable Fire Extinguishers: 2 each 5 lb. ABC Dry Chemical
Portable Fire/Dewatering Pumps:
First Aid: Yes
Flares: Yes
Accommodations
Wheelhouse: 3-sided enclosure with sliding windows and forced air heating through engine.
Tools & Equipment
Hand Tools: Yes
Description Of Vessel: