24 HR DISPATCH: ☎ (206) 632-0151
Dixie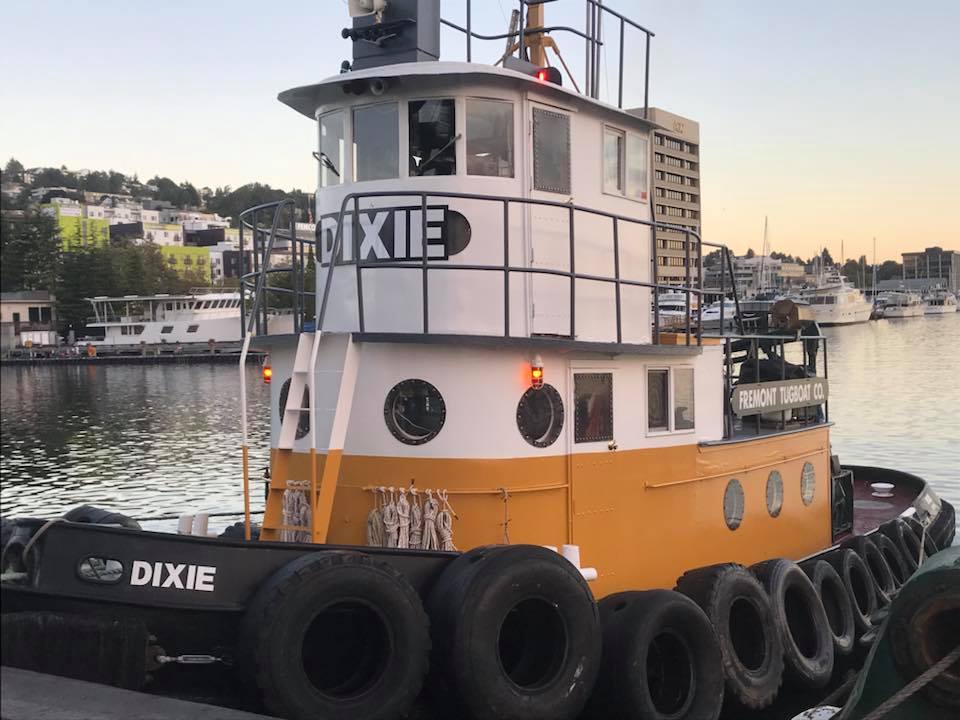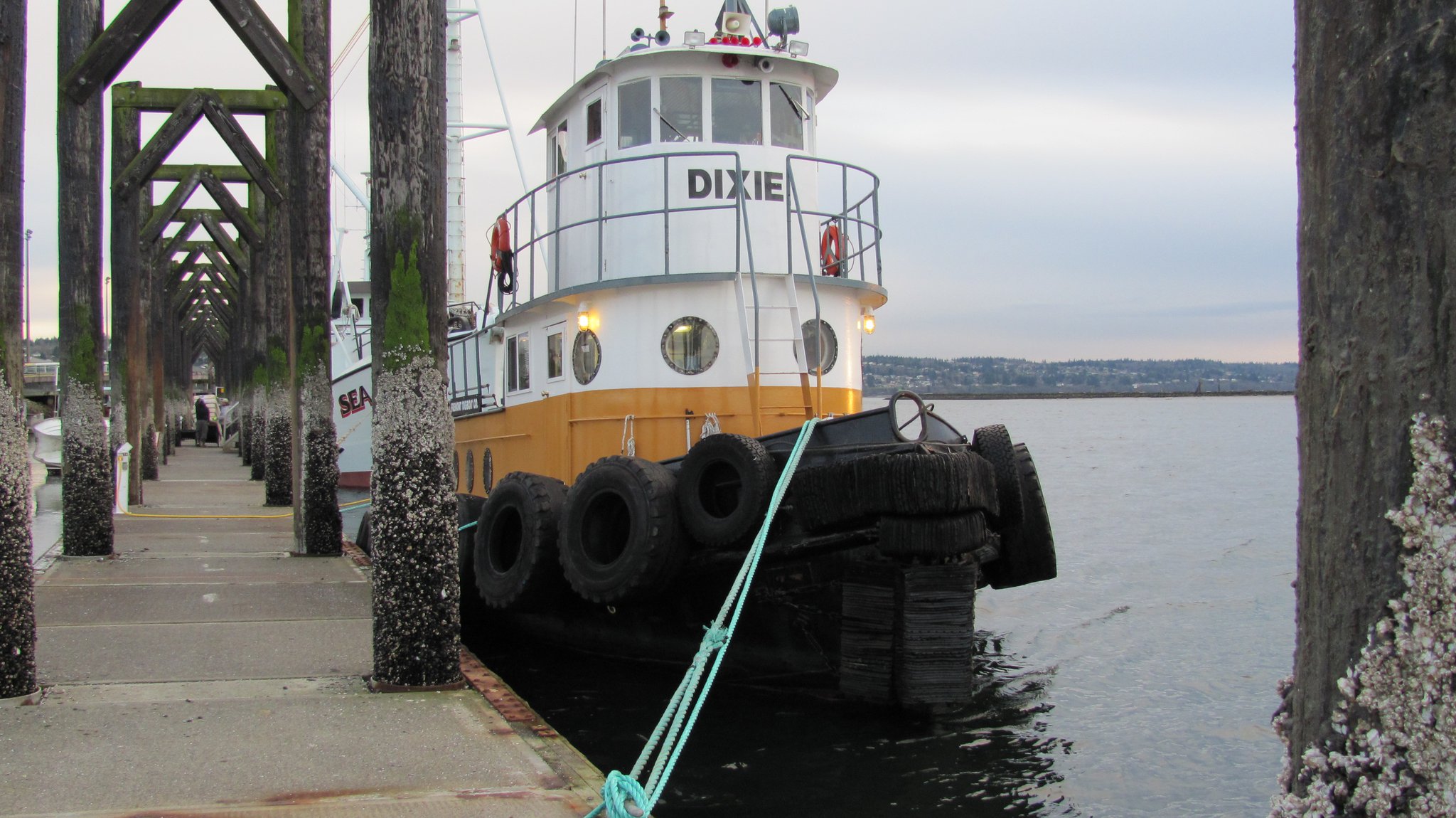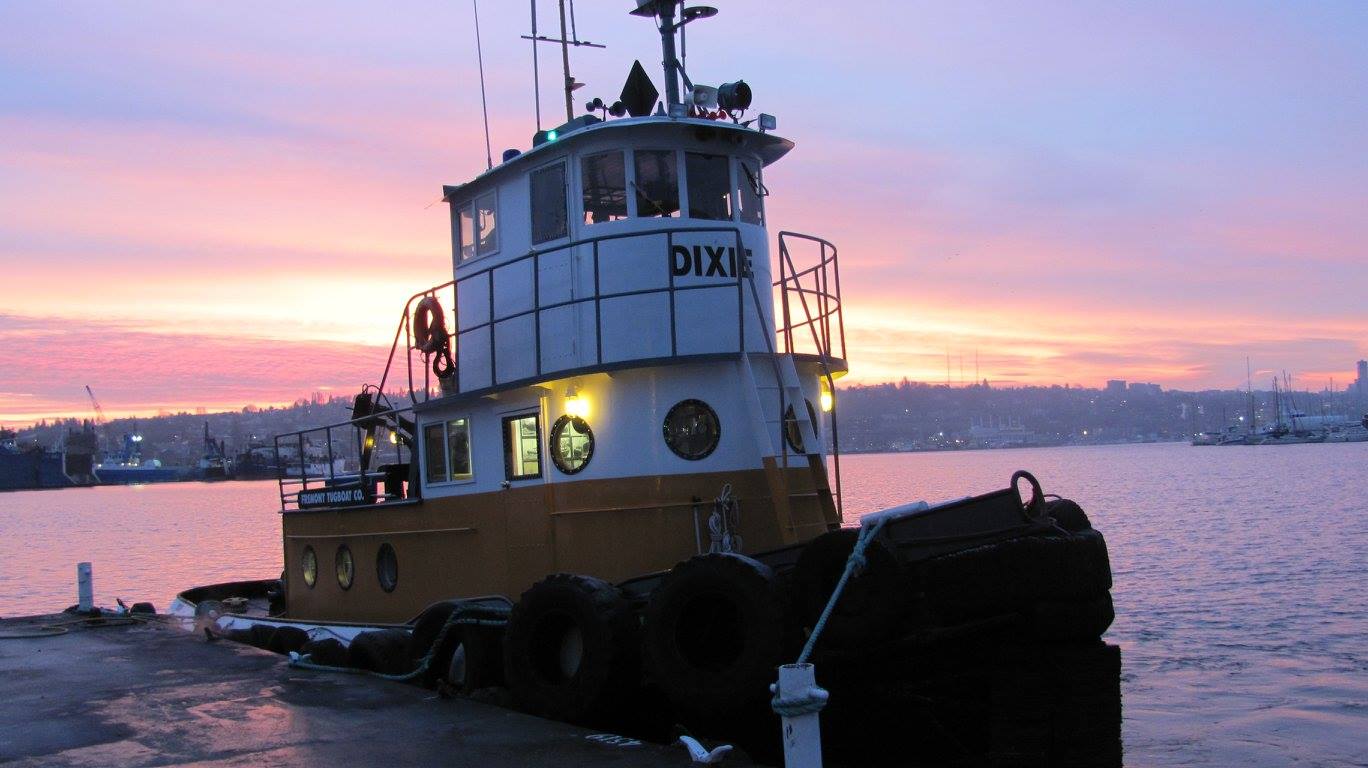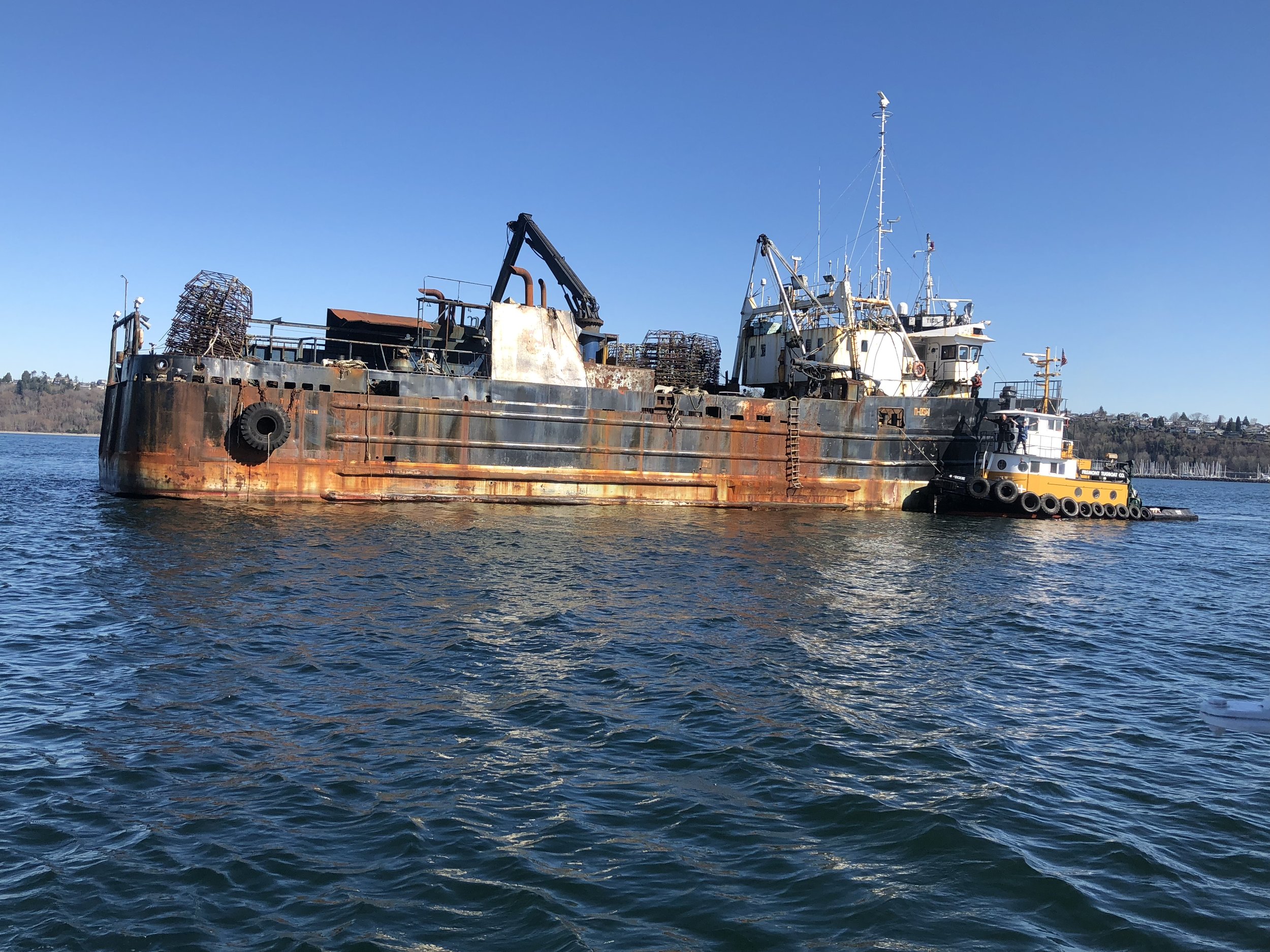 Specifications of Vessel
Vessel Name: Dixie
Type: Single: Single Screw Tugboat
Former Name: Grant Dixon 1
Official Number: 263365
Gross Tonnage: 29
Net Tonnage: 20
Total Weight: 65 Tons with full fuel tanks
Construction: Steel
Port Registry: Seattle, WA
Year Built: 1951
Last Rebuild: 2004
Survey: 2017
Vessel Dimensions
Overall Length: 51'
Registered Length: 46.3'
Overall Beam: 17'
Registered Beam: 15.1
Draft: 8'
Air Draft: 26'
Tank Capacity
Fuel: 2700 Gallons Diesel. (1500 fwd, 1200 aft)
Lube Oil: 125 Gallons
Hydraulic Oil: 20 Gallons
Potable Water: 120 Gallons
Black Water: 60 Gallons
Miscellaneous:
Propulsion
Main Engine: Cummins VTA 1710 M-2
Horsepower: 630
Reduction Gear: Twin Disc MG-521 with 4 to 1 ratio
Propeller: 58x54 4 Blade SS
Shaft Size: 5 inch
Bollard Pull: 5.5 Tons
AC Power
Shore Connection: 50 amp 240V twist lock
Generator: Kohler
Inverter: Magnum
DC Power
Batteries: 24 Volt DC Starting/House Bank-12 Volt DC House/Inverter Bank
Charging: Magnum and Pro Mariner
Navigation/Communication
Radio VHF: Pilothouse: Standard Horizon: Quantum GX2360S, Quantum GX5500S, Matrix GX2200, 2- Explorer 1700.
Upper Station: 2-Standard Horizon Explorer 1700.
Galley: Standard Horizon: Explorer 1700.
Crew Quarters: Standard Horizon Explorer 1700.
Aft Station: Standard Horizon Explorer 1700.
Call Sign: WDE5971
Radio SSB: N/A
Loudhailer: Standard Horizon VLH-3000
Whistle: Cunningham Number 1
Radar: Furuno 1942
Fathometer: Raytheon ST 60+ & Garmin Sonar
GPS Plotter: Garmin 7610 XSV, Garmin 7607 XSV
Autopilot: N/A
Compass: Danforth Constellation
Weather Station: Weems & Plath, Maximum Wind Meter
AIS: ACR AIS Link CA 1 & Garmin 300
Radio Portable VHF: 3 Standard Horizon HX 290
Search Light: Go Light
Deck Equipment
Tow Winch: Navy Standard Hydraulic
Bow Winch: Tulsa 1200W Hydraulic
Face Wire Winch: Beebe Hydraulic
Crane: Alaskan knuckle Crane. Hydraulic 500 lb SWL
Davit: Aluminum, Port Bow
Lines/Wires: Spring Line 1 ½ inch 8 strand "Supertuf" 45,414 lb Breaking
Stern Line 1 ½ inch 8 strand "Supertuf" 45,414 lb breaking
Headline 3/4 inch Amsteel 64,000 LB Breaking
Deck Lines 1 inch 3 strand "Poly Blue Steel" 21,825 lb Breaking
Tow Winch Wire 1 1/8 X 1200 Ft Galv. 105,200 LB Breaking
Face Wire 5/8 Galvanized wire 41,200 lb. Breaking
Face Wire Pennants ¾ inch Amsteel 64,000 LB Breaking
Soft Line Bridles and Tow Line 1 inch "Poly Blue Steel" 21,825 lb Breaking
Soft Line Bridles and Tow Line 1 ½ inch Poly Blue Steel
Terminal Gear: Shackles, Hooks, Blocks, Slings.
Salvage Equipment
Dive Gear: Dry Suit and all necessary scuba equipment with 4 aluminum 80 tanks aboard at all times.
Lift Bags: 4 each 2,000 lb lift bags
Oil Spill Boom: 150 feet of 4-inch disposable boom
Oil Spill Pads: 4 Bales
Damage Control Supplies: DC Tarps, Splash Zone Putty, Assorted Wood Plugs, Assorted Wood Wedges, Epoxy Tape, Mechanical Rubber Plugs, Steel Patching Circles, Plywood Patching Pieces.
Safety Equipment
Life Boat: N/A
Life Rings: 2-24" with floating lights and throw bags
Life Sling: Life sling with lifting tackle
Survival Suits: 4- Adult with strobe light and whistle
Mustang Suits: 2 Adult
PFD's: 6 Adult, 2 Children's Type 1 with Strobe and whistle, 4 approved work Vests with strobe lights.
Fixed Fire Suppression or Semi Portable: B-5 Installed In Engine Room
Portable Fire Extinguishers: 2- 5lb ABC Dry Chem, 1- 10 lb ABC Dry Chem, 1- 10 lb BC Carbon Dioxide, 3- 15 lb BC Carbon Dioxide,
Portable Fire/Dewatering Pumps: 2- 2 inch Honda/Pacer 12,000 Gallons per hour each. Suctions and 50 feet of fire hose with nozzle on each pump
SCBA: Located in Galley
First Aid: Yes
Miscellaneous:
Accommodations
Wheelhouse: Day Bunk area with chart locker and stowage below. Bookshelf with all required publications, logbooks and engineering information on vessel operations. 5 VHF radios. 2 Garmin GPS chart plotters, Furuno mod-1924 Radar, Raytheon Fathometer, Electric Heat, Loudhailer, Electronic Engine control, Jog Steering with manual helm, Circulating fans, White and Red LED interior lighting. VDO Camera display from Steering Quadrant, 3 views of Engine room. TV/DVD. AM/FM CD Stereo.
Galley: 3 burner electric stove and oven. Microwave. Dorm size refrigerator. Galley table with seating for 4. Electric heat. Coffee Maker. Toaster oven.TV/DVD. VHF Radio. Ample stowage for stores and supplies
Crew Quarters: 2 spacious bunks located below the galley. TV/DVD and ample stowage room for gear and supplies.
Head: 12-volt marine head with 60-gallon black water tank. Shower.
Tools & Equipment
Welding: Miller Thunderbolt Stick Welder located in Engine Room. Miller 185 Gas Driven Stick Welder. Oxy/Acetylene Torch and Welding.
Power Tools: 18 Volt De Walt Cordless Tools, Various 110 AC Corded Tools
Hand Tools: Well supplied
Pumps: Portable Fuel Transfer Pump, Fixed Oil Change Pump, Rule 1800 Portable Dewatering Pump, Rule 2000 Portable Dewatering Pump, Fixed 24 Volt DC Wash-down Pump.
Portable Chargers: 6-amp 6-36 volt multi-charger
Miscellaneous: Pressure Washer, Fixed 110 AC Air Compressor, Fixed 2 Stage 220 AC Air Compressor.
Description Of Vessel:
Model bow single screw tugboat with conventional and monkey rudder. Electronic controls and jog steering. Used mainly as a day boat in fresh water for shifting vessels and barges. Dixie has the fuel and accommodations to support voyages of 7 to 10 days if needed.