24 HR DISPATCH: ☎ (206) 632-0151
Yankee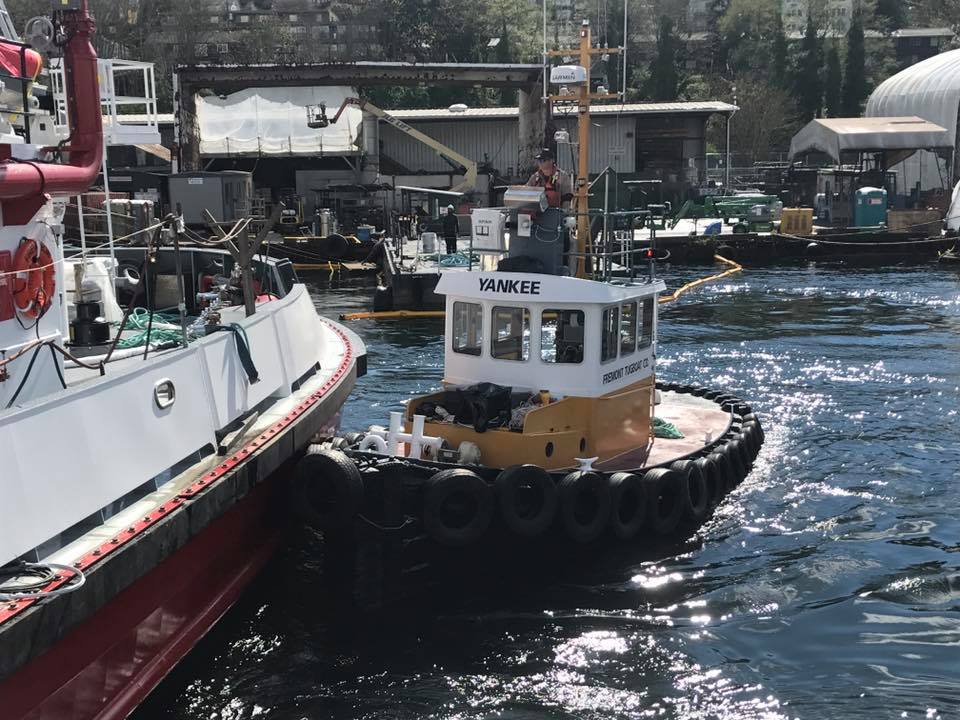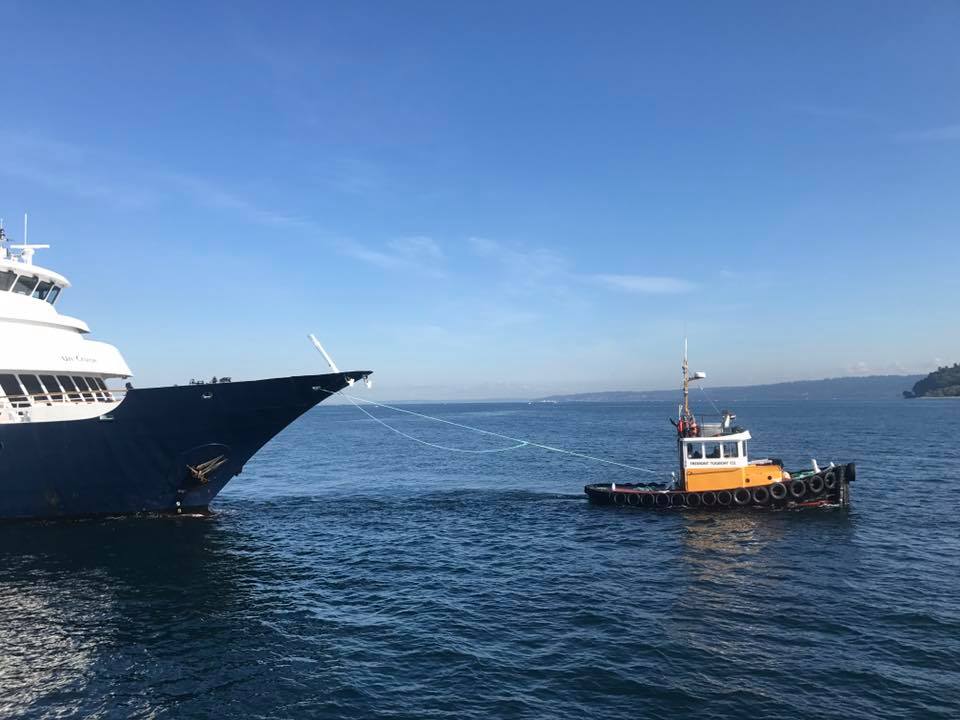 Specifications of Vessel
Vessel Name: Yankee
Type: Single Screw Tugboat
Former Name: Kristina H, Sea Mule
Official Number: 274994
Gross Tonnage: 15
Net Tonnage: 10
Total Weight:
Construction: Steel Hull with Aluminum House
Port Registry: Seattle, WA
Year Built: 1957
Last Rebuild: 2015
Survey: 2015
Vessel Dimensions
Overall Length: 34'
Registered Length: 33' 6"
Overall Beam:
Registered Beam: 13' 8"
Draft: 6'
Air Draft:
Tank Capacity
Fuel: 1400 Gallons Diesel (Port and Starboard Mid Ship Tanks)
Lube Oil: 18 Gallon Delo 100-40
Hydraulic Oil: 10 Gallons
Potable Water: 60 Gallons
Black Water: 40 Gallons
Miscellaneous:
Propulsion
Main Engine: Detroit Diesel 8V92T
Horsepower: 312
Reduction Gear: Caterpillar #M6-514 4.5 to 1 Reduction
Propeller: 49x46 RH 3 Blade Bronze
Shaft Size:
Bollard Pull:
AC Power
Shore Connection: 110V AC 30 Amp Twist Lock, 50 Amp 220V AC Twist Lock for Welding Connection.
Generator:
Inverter: Magnum
DC Power
Batteries: 12 Volt Starting, 12 Volt House, 12 Volt Inverter Bank with Crossover switch for Emergency Starting.
Charging: Pro Mariner 6-amp maintenance Charger, Magnum
Navigation/Communication
Radio VHF: 3- Standard Horizon GX-1700, 1- Standard Horizon GX-2200 located in Wheelhouse. 2- Standard Horizon GX-1700 located on fly bridge. 1- Sea 156 located in captain's stateroom.
Call Sign:
Radio SSB: N/A
Loudhailer: Standard Horizon VLH-3000
Whistle: Portable
Radar: Garmin
Fathometer: Garmin
GPS Plotter: Garmin 7610 XSV
Autopilot: N/A
Compass: 4" Ritchie
Weather Station: Weems and Plath with Wind Meter
AIS:
Radio Portable VHF: 2- Standard Horizon HX-290 with external microphones
Search Light: Go Light
Deck Equipment
Tow Winch: N/A
Bow Winch:
Face Wire Winch: N/A
Crane: N/A
Davit:
Lines: All: All Deck and Towlines are 1 inch 3 strand Poly Blue Steel Line 21,825 lb. Breaking
Terminal Gear: Shackles, Slings, Hooks
Salvage Equipment
Dive Gear: Wet Suit and all necessary scuba equipment with 4- aluminum 80 tanks aboard always
Lift Bags: 2 each 2,000 lb. lift bags
Oil Spill Boom:
Oil Spill Pads: 3 Bales
Damage Control Supplies: DC Tarps, Splash Zone Putty, Assorted Wood Plugs, Assorted Wood Wedges, Epoxy Tape, Mechanical Rubber Plugs, Steel Patching Circles, Plywood Patching Pieces.
Safety Equipment
Life Boat: N/A
Life Sling: Yes
Life Ring: 2 with Floating lights and throw bags
Survival Suits: 2 Adult
PFD's: 6 Adult 2 Child Type 1 with Lights and Whistle. 4 Work vests with Strobe and Whistle
Fixed Fire Suppression or Semi Portable: B-V Located in Engine Room
Portable Fire Extinguishers: 3- 5 lb. ABC dry Chemical, 2- 15 lb. BC Carbon Dioxide
Portable Fire/Dewatering Pumps: 3 " Honda/Pacer GPH, 2 inch Honda High Pressure GPH. Both equipped with Suctions and 50 feet of fire hose with nozzle each.
SCBA: N/A
First Aid: Yes
Miscellaneous:
Accommodations
Wheelhouse: Day bunk and chart table.
Galley: Dorm Size Refrigerator, Microwave, Hot Plate, Coffee Maker, Sink. Stores locker.
Crew Quarters: Single Bunk Located in the Engine Room
Head: 12 Volt Marine Head with 40 Gallon Black Water Tank Located in The Engine Room.
Tools & Equipment
Welding: Miller Thunderbolt Stick Welder. Oxy/ Acetylene Cutting and Welding
Power Tools: 18 Volt De Walt Cordless.
Hand Tools: Well Supplied
Pumps: Portable Fuel Transfer Pump, Portable Oil Change Pump, Rule 1800 Portable Dewatering Pump, Rule 2000 Portable Dewatering Pump, Fixed Fuel Priming Pump.
Portable Chargers: Gas Driven 24 Volt Charger,
Miscellaneous:
Description of Vessel: Yankee works mostly as an assist vessel in Lake Union and Puget Sound. She is a great towline boat. Well set up and outfitted for this type of work and always ready to go. Yankee boasts a 5 to 7 day fuel range which is impressive for a 36' tugboat.